Mehndi
Thursday, May 26, 2016 at 6:00pm
Mirage Banquets
Sheraton Four Points
10255 East Irving Park Road
Schiller Park, Illinois 60176




The ceremony is held a few days before the wedding. Intricate mehndi (henna) is applied to the bride's hands and feet. It's commonly believed that the more intense/dark mehndi color means a better loving husband. Often hidden within the mehndi pattern is the name or initials of the groom for him to find. The event generally has a festive feel with lots of food, music, vivid colors, and the female guests getting mehndi done on their hands as well. Friendly tip: Henna takes time to dry and turn colors, so please don't plan on using your hands for an hour or two!

Attire: Traditional Indian or Business Casual

---
Grashanti
Friday, May 27, 2016
Nirali's Parents House




All family members are welcome!

---
Garba
Friday, May 27, 2016 at 6:00pm
Mirage Banquets
Sheraton Four Points
10255 East Irving Park Road
Schiller Park, Illinois 60176




Garba and Raas are typical Gujarati folk dances that everyone can participate in. You don't know how to dance? Don't worry, we'll teach you! The steps are easy to learn and you can jump in whenever you're comfortable.

Garba is a solo, rhythmic dance with repetitive steps in a circular group formation. Each circle can be simple or complex; different groups of people are doing different steps simultaneously to the beat, so it's fun to watch even if you're not the dancing type. The music starts off slow, but speeds up as time goes on, making the end a fun, crazy blur.

Raas is done in pairs while holding sticks called dandiya. The dance involves hitting your partner's dandiyas with your own while following the beat of the music. Again, the steps can be simple or complex depending on your comfort level (If you're not yet convinced, don't worry - we'll have some raas lessons, too!) Raas is also easy-come-easy-go with the caveat that you have to leave/join in pairs so there isn't an odd man out.

Attire: Choli, Kurtha-Pajama, or Business Casual, but be ready to dance without your shoes on!

---
Ceremony
Saturday, May 28, 2016 at 12:30pm
Eaglewood Resort and Spa
1401 Nordic Road
Itasca, Illinois 60143




The festivities begin with the baraat. For this, the groom arrives to the ceremony with his crew. All friends and family should meet Shekar at the Eaglewood lobby by 12:15pm. Guests dance around him to the beat of the dhol, an Indian drum. After that, the mother of the bride greets the groom and they have an exchange before he is invited into the Pavilion.

For the ceremony, the priest, groom, bride, and their parents sit beneath a mandap. The ceremony starts off with the kanya daan, in which the bride's parents give away the bride. Then the couple joins hands and circle around a small, enclosed agni (fire) in a ritual called the mangal phera.

Then the couple will take the saptapadi, or seven steps, as they vow to support each other and live happily together. Finally, the groom will apply a red powder to the center of the bride's forehead and tie a black beaded necklace around her neck, symbolizing that she's now a married woman.

Attire: Traditional Indian or Business Formal

---
Cocktail Hour & Reception
Saturday, May 28, 2016 at 6:30pm
Eaglewood Resort and Spa
1401 Nordic Road
Itasca, Illinois 60143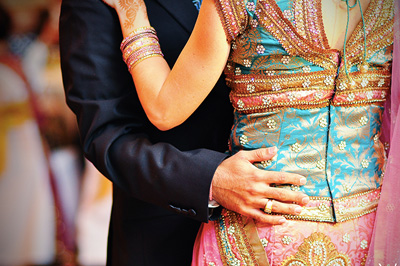 We're going to start the evening with a cocktail hour and hor d'oeuvres on the rooftop terrace! Then we'll move back into the Pavillion for speeches, performances, dinner, dancing, and most importantly open bar to celebrate the newlyweds!

Attire: Traditional Indian or Evening Wear